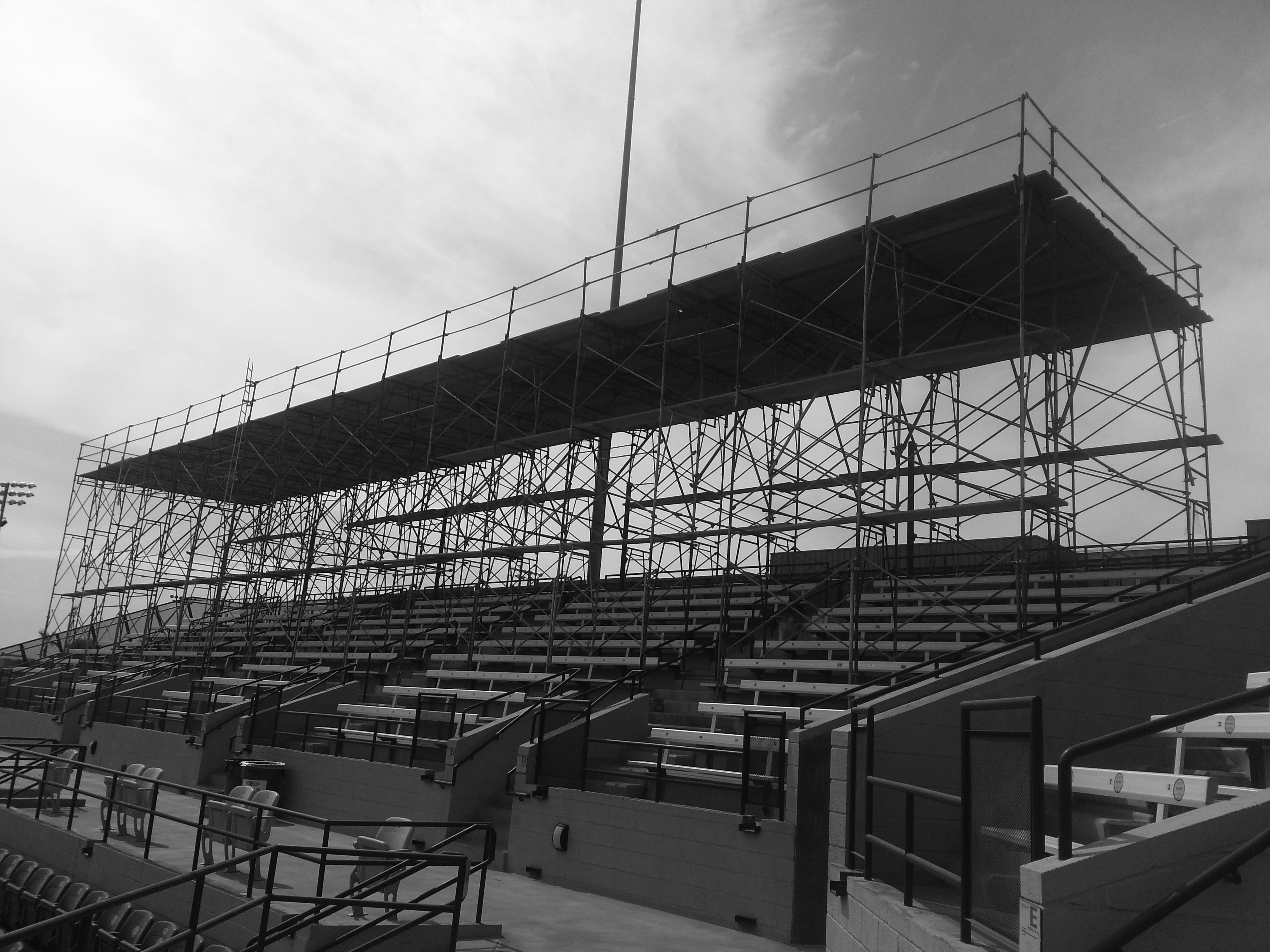 We have a wide selection of scaffolding, shoring, swing stage, trash chutes and bleachers for rent or purchase. Engineering, assembly and delivery available statewide! Phoenix Scaffolding is "Your high reach specialist"
---
1
Which Scaffolding Material & Type Is Best?
At Phoenix Scaffolding, we offer a wide variety of steel, aluminum, and wood products. These are reliable, sturdy, and they are resistant to most forms of potential damage. Scaffolding type is determined by the jobs requirements, we offer: Single, Double, Cantilever, Suspended, Systems, Trestle scaffolding and more... If you do have special requirements, then it may be necessary to rent specialty scaffolding, please call for more details.
2
Can Scaffolding Be Used On Uneven Ground?
In most cases, uneven ground does not pose a problem for the use of scaffolding. Systems are designed using precise measurements that ensure the top of the scaffolding unit and the different levels are both safe and secure. Pole lengths can vary, and special scaffolding designs can be made that will help to ensure the best fit for your project.
3
What Type Of Scaffolding Design Will I Need?
There are a many different types of scaffolding and modular components which require specific planning before use. If you're unsure of what type of scaffolding would best suit your project, give us a call. A basic scaffolding tower, and some other common designs, require nothing more than the prerequisite safety inspections before they can be used, but more complex designs and structures must be accompanied by a scaffolding design before they are considered suitable for use.
4
Can Scaffolding Be Moved Once Erected?
Standard scaffolding units cannot and should not be moved. However, if you do require a single scaffolding tower, but will need it in more than one location, then mobile or systems scaffolding constructs are available. These will have castor wheels so that you can move the scaffolding around to any location as required. These can prove very beneficial and functional in smaller jobs as long as it is constructed on a hard, level surface.
Ready to Rent Equipment from Phoenix Scaffolding?
---
Remember, when renting with Phoenix Scaffolding there is:
| | |
| --- | --- |
| No Minimum Rental Dollar Amount | Almost Everything In Stock and Ready for Pick-up or Delivery |
| Statewide Estimating and Installation | Engineering Services Available on Request |
---
Easy Scheduling
Our scaffolding can be delivered with 48 hour notice.
Rain or Shine Delivery
Phoenix Scaffolding is always on the job, no excuses.
---
Daily Rental with a 14 Day Minimum
Flexible and affordable options for every project, call today!
Excellent Support
We are available to help Monday - Friday, 6am to 5pm.
Welcome to the Phoenix Scaffolding & Equipment Web Site
Phoenix Scaffolding & Equipment Inc has brought Arizona Contractors a very easy place to buy or rent many types of scaffolding. We offer up several types of equipment including Frame Scaffolding, Systems Scaffolding, Shoring and Bracing, Trash Chutes, Bleachers and more. Our expert staff will make short work of your next project's Scaffolding needs. Located centrally in Phoenix, we take the effort out of scaffolding your project no matter how big it is.
Phoenix Scaffolding & Equipment Inc has been renting in the Valley of the Sun for over 3 decades. We have grown to be the premiere source for Scaffolding, Equipment and Shoring Rentals as well as sales. When your budget counts on any job , count on Phoenix Scaffolding to get you done under budget. We have the inventory and knowledge to complete any project furthermore, our long-term employees we have the experience that counts.
Looking for something specific or hard to find? PSE has the solution for your job today. We have plenty of crews available 7 days a week to complete your project on time and under budget. Count on Phoenix Scaffolding & Equipment for your next job. Give us a call to schedule a visit to your job site or talk to an estimator.